Example - Deploy demochat to Kubernetes cluster
An end-to-end example for Kubernetes deployment
In this example we will deploy our demochat application to Kubernetes. demochat requires two services to run:
MongoDB
demochat webserver that is implemented in Node and can be found at https://github.com/containers101/demochat
We will perfom the following steps:
Build the Docker image for demochat
Deploy the demochat service to a Kubernetes cluster
Access the running demochat service
Automate demochat deployment using a Codefresh pipeline
Building the Docker image for Demochat
Become familiar with basic Codefresh pipelines as explained in the quick start guide and then:
Add your forked demochat repo in Codefresh (use the url above to find the repo).
Choose the branch for your first build (in this case master).
Select how you would like to setup your repository. In this case, our repo already has a Dockerfile, so we will select the middle option.
Clicking on Build button will trigger a regular build.
When the docker image will be created, go to the tab Images to find the image containers101/demochat
Deploying the Demochat service to a Kubernetes cluster
Go to your Account Configuration, by clicking on Account Settings on the left sidebar. On the first section called Integrations click the Configure button next to Kubernetes.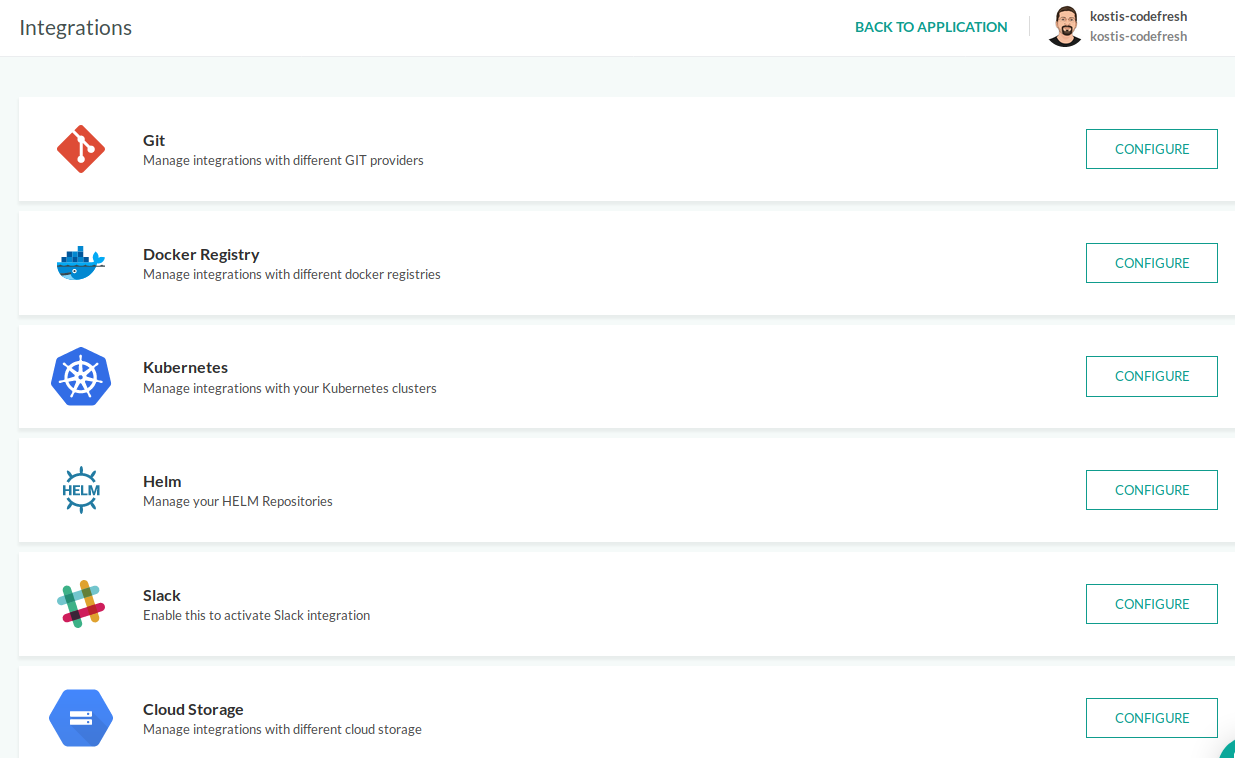 Exit your account settings and then select Kubernetes from the left sidebar to access your Kubernetes dashboard. Click on the button Add New Service.
The demochat application uses a Mongo database, therefore we need to add a mongo service with the following params (see the screenshot below).
Then just click on the button Deploy.
The mongo service will appear on your Kubernetes dashboard.
Click on the button Add New Service to create a Demochat service.
Use the screenshot below to specify the parameters of Demochat service.
| Parameter | Value |
| --- | --- |
| CLUSTER | choose one of your clusters |
| NAMESPACE | choose the namespace in the dropdown list |
| SERVICE NAME | Demochat |
| REPLICAS | 1 |
| EXPOSE PORT | 5000 |
| IMAGE | containers101/demochat |
| INTERNAL PORTS | 5000 |
Accessing the Demochat service
On the Kubernetes tab you can see the demochat and mongo services.
The Demochat application is now successfully deployed! You can see the external endpoints of this service in the service view and access the application using its endpoint and port.
Click on the external endpoint and your browser window will open to show the running application.
Automating Demochat deployment using Codefresh pipelines
For automated Kubernetes deployments check the documentation for
What to read next